K2 W'S CASSETTE BINDING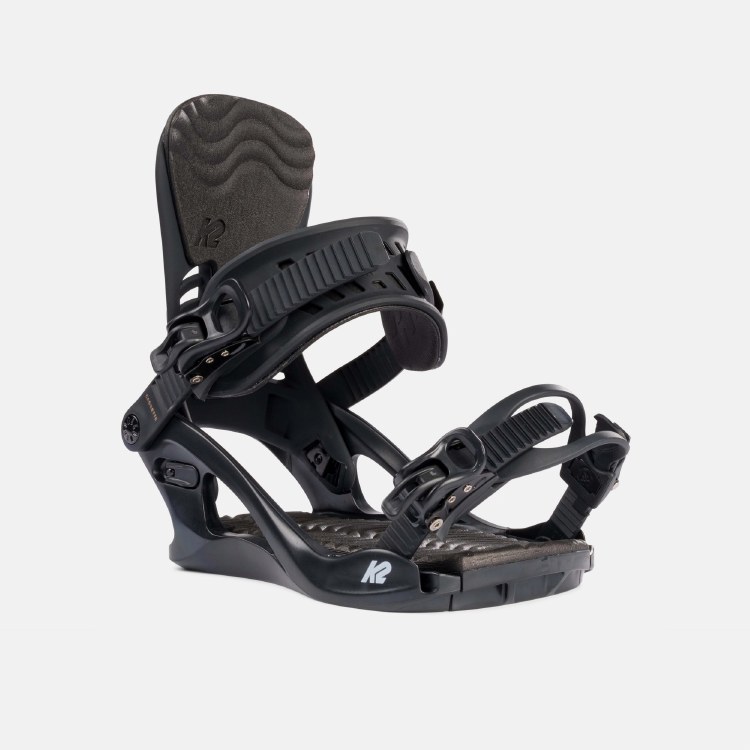 K2 W'S CASSETTE BINDING
$199.00
Description
The Cassette is designed for aspiring snowboarders ready to build their snowboard kit and kiss the lines at the rental counter goodbye. The Cassette features a classic silhouette and is kitted with features proven to provide beginners with the perfect blend of comfort and control.
Its foundation is our A-Line Chassis, seamlessly balancing durability and function and creating a forgiving feel for smooth, easy turning. The EVA footbed is cushy and supportive and features a 3º inward cant that puts you in a perfectly balanced position for anticipating anything the mountain throws your way.

The Cassette's flexible Tweakback™ Highback is found on our premium models and features our Gap Eraser™ Forward Lean adjustment - giving riders complete highback-to-heel cup contact. More contact equals more response. The padded P.I. 3D Ankle Strap and PerfectFit™ Toe Strap cradle your feet in comfort while securely attaching to your board to seek out powder stashes or line up your first jump in the park.

Once the bindings are mounted to your board, they can be adjusted on the fly without extra tools, thanks to our Toolless design philosophy for on-the-go customization and fit.


TECHNOLOGY

A-LINE™ CHASSIS:
Our female-specific A-Line™ chassis is a one-piece design for lightweight performance, power, and comfort. This polycarbonate baseplate was designed in collaboration with our Women's AllianceTM product group and is fully outfitted with tool-less adjustment for a custom fit.

PC FLEX CHASSIS MATERIAL:
A polycarbonate chassis allows for true board-flex and optimal board-feel.

TWEAKBACK HIGHBACKS:
Tweakback™ highbacks are constructed using an injected urethane that is formulated to perform in cold temperatures and will allow you to flex the highback to its limit without any distortion.

PI ANKLE STRAP:
A lightweight and durable injection molded ankle strap designed primarily with comfort in mind.

PERFECT FIT™ TOE STRAP:
Hinged design fits any boot toe shape, holds well, and sits in a low-profile configuration.

3° CANTED FOOTBED:
Canted 3° to match your natural leg position during riding. More support to the outside of the foot provides improved control while reducing fatigue.

GAP ERASER™ FORWARD LEAN:
Gap Eraser™ technology completely eliminates all gapping between the boot, highback, and heel cup, creating an even stronger bond between you and your snowboard. Better contact means better response.

100% TOOL-LESS ADJUSTMENTS:
Once mounted to your board, all strap and highback adjustments can be done on-the-fly without the need for screwdrivers or other tools.

MEGA PC LEVER RATCHET:
Lightweight and dependable with a no-frills attitude. Our 4-click PC ratchet features a high-end spring inside for a secure hold.

EZ FEED FUNNEL:
A wider mouth makes feeding binding straps fast and easy.

4" MULTI-COMPATIBLE MOUNT DISC:
Compatible with our ProFusion™ Chassis, the 4" Multi-mount disc focuses on power transfer and lets you mount your snowboard binding to 4-hole and channel mounts.
Reviews
Customer Reviews
This product has not yet been reviewed.