ATLAS MONTANE SNOWSHOE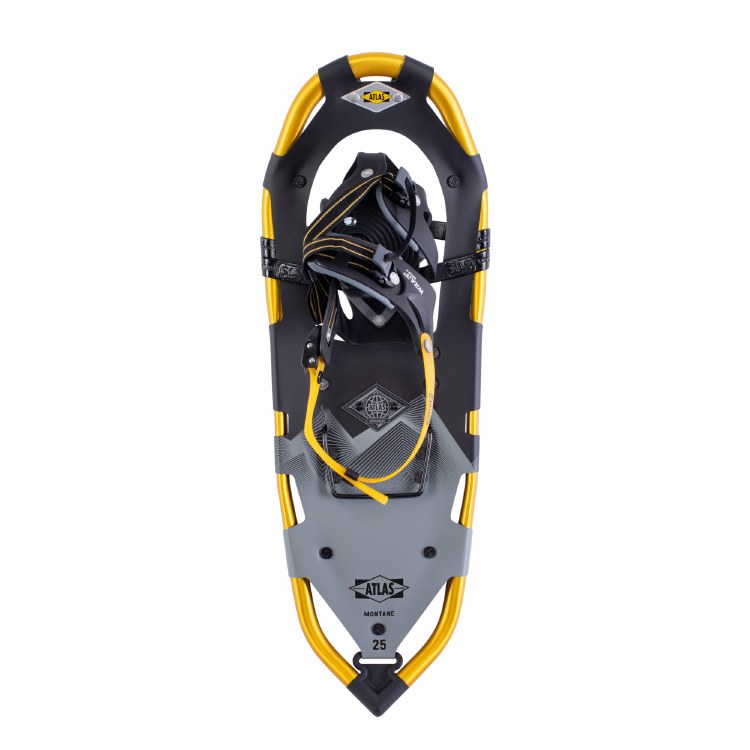 ATLAS MONTANE SNOWSHOE
$269.00
Description
If you frequently find yourself exploring the deep powder of the backcountry, you should become better acquainted with the Montane. Featuring Atlas's best-in-class tubular frame, the Reactiv™, for improved flotation and responsiveness, the Montane takes backcountry performance to new heights. Comfortable and easy to use, the Montane's Wrapp™ Swift binding features warm EVA padding and webbing straps that cinch and release seamlessly. The All-Trac™ toe crampon and StabiLock heel cleat provide the traction needed on the varying snow and ice conditions the backcountry can impose. Atlas's patented Spring-Loaded™ Suspension allows for a natural, uncompromised stride, while 19° heel lifts provide relief on ascents.

Terrain: Backcountry
Heel Lift: Yes
Frame Technology: Reactiv™ Frame, Nytex Decking
Binding Technology: Wrapp™ Swift
Traction Technology: All-Trac™ Toe Crampon, Stabilock Aft Traction
Articulation: Spring-Loaded™ Suspension
Additional Technology: 19° Heel Lift, EZ Heel Buckle, Rockered Footbed
Features: Heel Lift
Category: Backcountry
Collection: Tubular

Wrapp™ Swift Binding
The Wrapp™ Swift binding blends a technical fit with great comfort and ease of use thanks to the positive toe locater, warm EVA padding, and straps that cinch and release seamlessly.

EZ Heel Buckle
The EZ Heel Buckle is single handed convenience while ensuring all-day comfort.

Reactiv™ Frame
Reactiv-Trac™ construction integrates the perimeter aft stability of serrated traction rails with Spring-Loaded™ Suspension and the flex of an elliptically formed nose, allowing the binding, crampon, and frame to conform and articulate independently with the terrain.

Nytex Decking
Flexible Nytex decking is forgiving and quiet when hiking in the cold, providing durability without the weight.

Spring-Loaded™ Suspension
Precision-focused, Spring-Loaded™ Suspension's (SLS) patented design, suspends the snowshoe close underfoot so it can move freely with its intended articulation, absorbing impact, flexing naturally side-to-side, and allowing deeper crampon penetration into the slope for an compromised stride.

All-Trac™ Toe Crampon
The time-tested geometry of our All-Trac™ toe crampon provides traction in all directions. Wider traction tabs on the sides and corners complement sharp front and rear points for confident hiking.

Stabilock Aft Traction
The weight-activated, StabiLock Rear Traction optimizes weight distribution to its serrated traction elements, for sure footing on the most technical terrain.

19° Heel Lift
Provides relief when climbing those long steep hills, and easily stores for flats and descents.
Reviews
Customer Reviews
This product has not yet been reviewed.