SARIS MAG TRAINER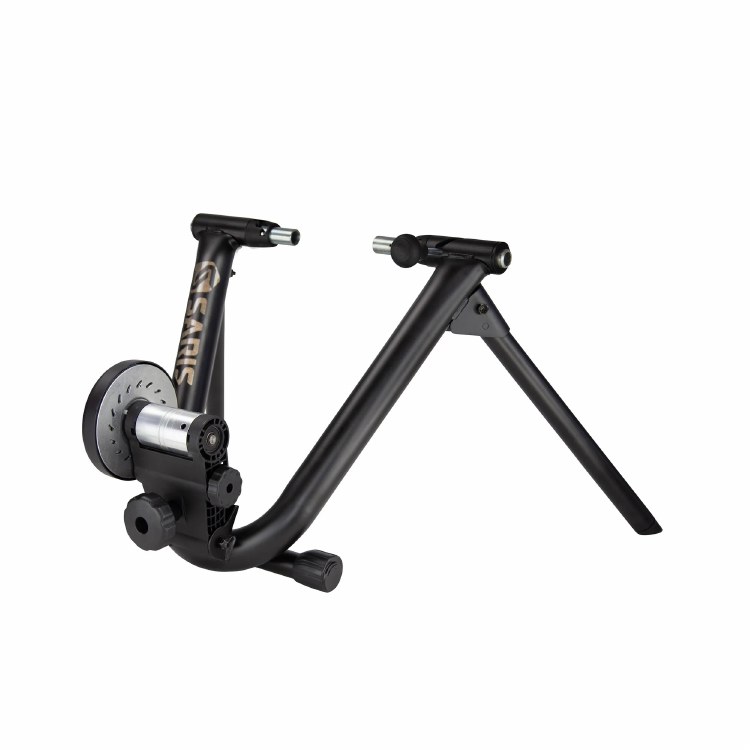 SARIS MAG TRAINER
$299.00
Description
SWEET SIMPLICITY
No fancy gizmos. No wires. No fuss. Turn your bike into an indoor bike trainer.

Whether your training for a local charity ride or working to beat your friend's FitBit score, the Mag indoor bike trainer can help you make it happen. Simply connect the trainer to the rear wheel of your bike, hop on and pedal away. Plus, the Mag comes with five adjustable levels of resistance so you can adapt every ride to your liking.

Want to train with Zwift or Rouvy? The Mag can do that too. All you need is a speed sensor. Visit our setup guide to learn how to get started.

PRODUCT FEATURES
- Magnetic resistance unit provides a quiet and frictionless ride.
- Linear resistance boosts workout intensity to match each pedal stroke and gear click.
- Features five adjustable levels of resistance.
- Compatible with Zwift and other indoor training apps.
- Includes one month subscription to Rouvy virtual training app

Tech Specs
- Noise level: 69 decibels at 20 mph
- Resistance Unit: Magnetic, provides quiet frictionless ride
- Resistance Curve: Linear, intensity increases along set path with changes in pedaling and bike gearing
- Maximum Weight (rider and bike): 300 lb.

Design
- Wheel-On: Connects to rear wheel of bike, no need to remove wheel or disassemble bike
- Resistance Adjustment: Manual, no handlebar shifter included
- Trainer Frame: Foldable Classic frame with spring loaded, bolt-action lever
- Resistance Knob: Standard, resistance roller-to-tire connection adjusted with turn knob
- Roller: Alloy, precision-machined alloy resistance roller reduces tire wear and slippage
- Leveling Feet: Yes, for easy adjustment on uneven surfaces
- Cooling System: External, self-cooling mechanisms, including patented fan design, keep unit performing better, longer
- Thru Axle Adapter: Sold separately for 142x12mm and 148x12mm bikes
- Compatible with indoor cycling apps when paired with your favorite speed or cadence sensor

Bike Compatibility
- Steel quick release skewer included for common road and mountain bike frames
- Thru Axle Adapter: Sold separately for 142x12mm and 148x12mm bikes
- Three settings for rear dropout spacing: - 120mm, 130mm, 135mm
- 2" resistance unit roller compatible with the following wheels and tire widths: 650b, 700c, 27.5", up to 2.0" wide, 29", up to 1.5" wide and without tread
- The Mag is not compatible with the following wheel diameters and tire widths: 650c, 29" with tread and/or wider than 1.5", 26"
Reviews
Customer Reviews
This product has not yet been reviewed.