TACX FLOW SMART TRAINER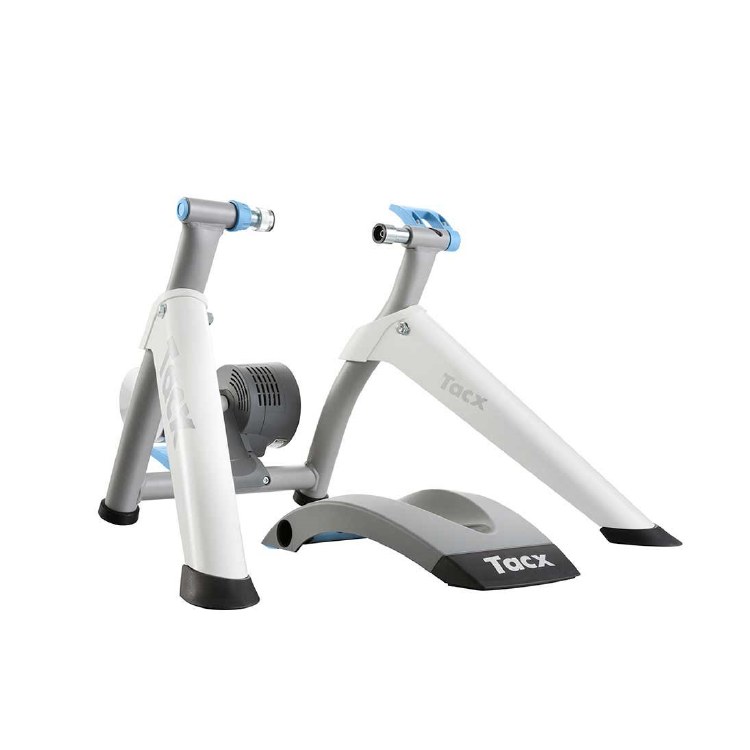 TACX FLOW SMART TRAINER
Description
Interactive Smart Trainer with Cycling App Compatibility
Wheel-on design sets up with two easy clicks and securely locks in place
Measures speed, power and cadence
Virtually silent flywheel lets you ride without disturbing others
Works with popular third-party training apps such as Zwift and Tacx®
Train with realistically simulated inclines up to a 6% gradient
For year-round training and a fully interactive indoor cycling experience, the Tacx Flow Smart trainer offers everything you need. Its wheel-on design allows for easy setup and storage. It even connects to your favorite apps, such as Zwift, Tacx and TrainerRoad.

Train with Confidence
Flow Smart is designed to provide reliable, accurate and consistent speed, power and cadence measurements without the need for external sensors.

Powerfully Built
Though Flow Smart has a compact flywheel, it's able to replicate a mass inertial effect of 26 lbs (11.8 kg), giving you the feel of riding outdoors. It is able to realistically simulate inclines up to a 6% gradient.

Made to Last
No matter how intense your workout, this bike trainer is stable and built to last. It securely locks your bike into place with two easy clicks, so you can ride hard and know you're not going anywhere. Flow Smart also features a single roll made from a hardened steel sleeve to prevent wear.

Smooth and Silent
Featuring a compact 3.5 lb (1.6 kg) flywheel and a roll core with soft plastic to absorb vibrations, Flow Smart is one of the most silent flywheel-equipped bike trainers available.

Fully Connected
The trainer is compatible with a number of popular training apps. So whether you want to take on the virtual worlds of Zwift or utilize other platforms such as Strava and TrainerRoad, this bike trainer lets you ride smarter than ever before.

Train Your Way
Flow Smart harnesses the innovative power of Tacx Training™ software. Start by taking advantage of efficiently structured training plans, designed for your fitness level to help you meet your unique goals. Enjoy your time in the saddle even more with a library of high-quality training films that lets you experience the rush of riding the steep hills of the Alps or the cobblestone roads of Milan. Race against live opponents and virtual training partners, link your Strava account to ride on 3-D maps, and even create your own workouts based on slope, power, heart rate or FTP. You can also choose to use your bike trainer without any software. When you do, it follows a progressive power curve. The resistance will increase progressively when you ride faster, simulating riding on a flat road.
Reviews
Customer Reviews
This product has not yet been reviewed.